Donate Dollars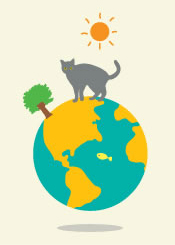 Like what you see? Please help us do more of it by making a tax-deductible donation to keep us out of the red. Maybe we're a bit naive, but we don't want to spend donated dollars on trying to raise more dollars. Why focus on fundraising when we can focus on our life-saving programs and services? Feel free to earmark your donation to a specific program (Pets for Life Online, Documentary, or Events) and we'll use it as requested.
Any amount you can donate is greatly appreciated!
General snail mail donations can be sent to:
Kind Green Planet
37 W. 65th St., 7th floor
New York, NY 10024
Attn: Rose Wayne
Snail mail donations for the Vegucated documentary can be sent to:
Kind Green Planet
214 W. 17th St., 4B
New York, NY 10011
Attn: Marisa Miller Wolfson

---
Donate Materials
The Pets for Life Program can use the following:
Dog crates (large and medium sizes)

Interactive, strong dog toys such as Kongs, Nylabones, and other toys that hold treats

Interactive cat toys such as feathers on wands, the Cat Dancer, etc.

Halti Collars or Gentle Leaders and Gentle Harnesses of all sizes
To coordinate drop-off/pick-up of these items, email Joyce.